Deb Lundy RTNM
Nestor Shinkewski Award Winner 2016
Deb for many years has been actively involved in both SAMRT and SAMIM. Often Deb took on the roles that others "feared" such as treasurer. If you thought about medical imaging management in Regina – one name came to mind: Deb Lundy. Deb has always shown that Saskatchewan work ethic to get the job done. SAMIM members can all thank Deb for many times taking up the lead of planning our Regina conferences. Deb was sometimes one of few persons traveling from Regina to Saskatoon for SAMIM meetings. Our heartfelt thanks to Deb for all her many years of hard work and service to our association and to our profession!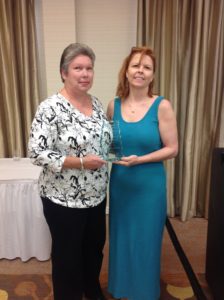 The History of SAMIM
The formation of SAMIM began in March 1978. Nestor Shinkewski, manager at University Hospital, hosted a two day meeting in Saskatoon. Managers from hospitals with a minimum of 30 beds were invited to participate.
The intent was to have a meeting of the managers from the province once a year to share information, discuss common issues in our departments, education on new developments, summit issues, concerns to appropriate personnel and government department, technologist training and education. One of the main interest was to inform managers who were not able to attend larger conferences like RSNA.
At that first meeting it was decided to be informal and not be involved with bylaws but to concentrate on education. So formal establishment of SAMIM as an association was yet to come.
Nestor Shinkewski served as chairperson of the annual meetings until 1994.
After a couple of years radiology sales companies were invited to the meeting. This was beneficial as managers were updated on new trends. Following a few more year area supervisors and instructors were invited to participate. The first meetings were in Saskatoon. Eventually the meetings alternated Saskatoon and Regina.
Following all the turmoil in hospitals in 94-95 there were no meetings for a couple of years. In 1997 the managers had a meeting and established a formal association. Bylaws, rules and regulations were drafted with assistance of Nestor Shinkewski (although he was retired at that time).
In 2015 the SAMIM website was launched. Current membership includes managers, supervisors and educators from medical imaging and radiation therapy. We look forward to serving our members through this and annual meetings to promote education and networking in the radiology and radiation therapy community.